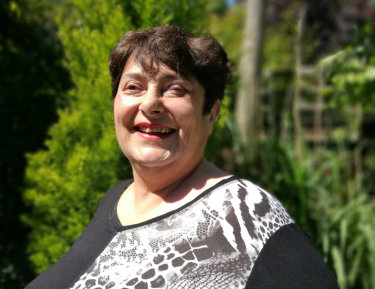 Our 'blogger' and international prize winner, Penny Melville-Brown from Hampshire, will be travelling over coming months in the USA, Costa Rica, China, Australia, Malawi and Europe. Having been selected from over 200 candidates from 27 countries as one of the three winners of the inaugural Holman prize run by San Francisco's Lighthouse for the Blind and Visually Impaired., she will be creating 12 months of videos and blogs to showcase what she and other blind people around the world can do.
"This is an extraordinary once-in-a-lifetime opportunity to combine my love of cooking and travel. I'll be a standard bearer for blind people; demonstrating that blindness isn't a bar to ambition. With the help of a new network of contacts in all the different countries, we've put together an amazingly exciting programme of cooking opportunities: with professional chefs, home-chefs, military trainees and, most importantly, other blind people. Everywhere I go, I will be learning new recipes, fresh techniques and unusual ingredients – and sharing all the experiences through my video channel and website www.bakingblind.com."
Already featured on BBC Television and Radio, on international media and more local talking News for visually impaired people, Penny is using a breadth of traditional and social media in the hope of reaching wider audiences with her positive take on life with a disability. She will be drawing on her personal experience, nearly two decades of helping other disabled people back to work plus all the learning from others worldwide.
She is also using the prize to celebrate the 2017 centenary of the Women's Royal Naval Services; she was still serving as a commander with her sight loss and has reached out to former naval colleagues in America, Australia and France for part of her tour. These naval connections also link with James Holman, after whom the prize is named; another Royal Naval officer blinded in service who went on to travel the world solo around 200 years ago.