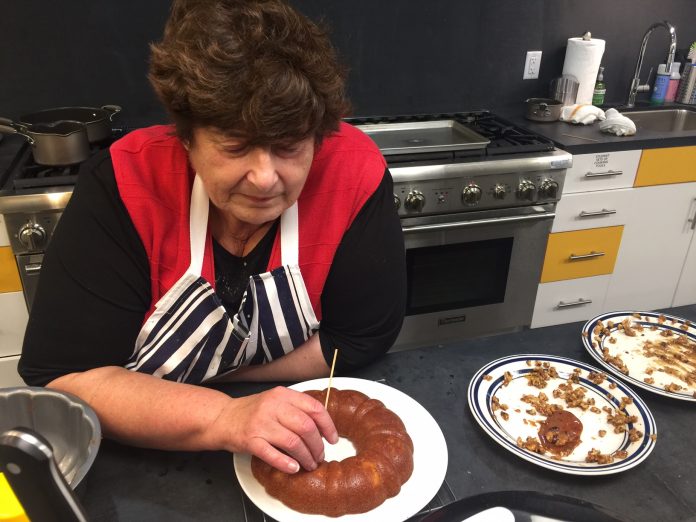 From Penny Melville-Brown OBE, Baking Blind, Disability Dynamics, food, cooking, Holman prize, WRNS 100, recipes, disability, visual impairment, blind, war pensioner, veteran, Lighthouse, honey cake, Steven Edwards, Sydney Ferrario, walnuts, honey.
"One of the joys of my time at the Lighthouse for the Blind in San Francisco was cooking with Sydney. She is their instructor chef who herself has very limited vision. And she enthusiastically allowed me in to her immaculate kitchen to create havoc and make the honey cake I'd learned from MasterChef champion, Steven Edwards.
By the end of the morning, I was sticky up to my elbows as was the working surface, sink taps, spoons, bowls and virtually everything down my side of the kitchen. I had to completely change my clothes afterwards.
And the cake was very much touch and go. Weighing the dry ingredients was easy but, even between us, achieving 200g of egg whites was a challenge. I'm not sure if the American hens are fed on something different but their shells didn't really crack but rather collapsed inwards. Once opened, we were trying to drop the egg in to a separator that was far too small and wobbled precariously on the edge of the bowl. And then, of course, was the honey.
It took two of us huddled over the stove listening to the butter bubbling and then the smell changing to decide that it had browned.
Even once we had the cake batter mixed, we were very dubious as it seemed far too liquid so extra spoonsful of flour and ground almonds were whisked in. As to the baking tin, there was nothing like Steven's deep square tin so we compromised with one of those round ones with a hole in the middle to make a ring cake. This meant that there was less surface to cook which resulted in nearly double the time in the oven.
All of this was to be dessert for a lunch of 12 and, at one stage, it was looking pretty hopeless. I was wondering how I could make something nearly presentable with a loaf and the rest of the honey.
Nail-biting minutes later the cake emerged: lightly golden, springy and coming away from the sides of the tin. It flopped out perfectly and, after multiple prods with a cocktail stick, it was anointed with the honey and orange juice syrup (the Americans call this a 'poke' cake for obvious reasons). Meanwhile, I toasted some walnut pieces and then candied them in even yet more honey so that they made a crisp and sticky topping.
Steven's wonderful recipe was even more adulterated as I'd added orange zest to the batter and on the base of the baking tin – he is probably cringing!
But it all worked surprisingly well: light and full of flavour without being too sweet – it disappeared very fast.
Another time I'll share Sydney's Marbella chicken – with prunes, olives and much more. She certainly deserved one of the Baking Blind apron medals for all her patience and the clearing-up!"