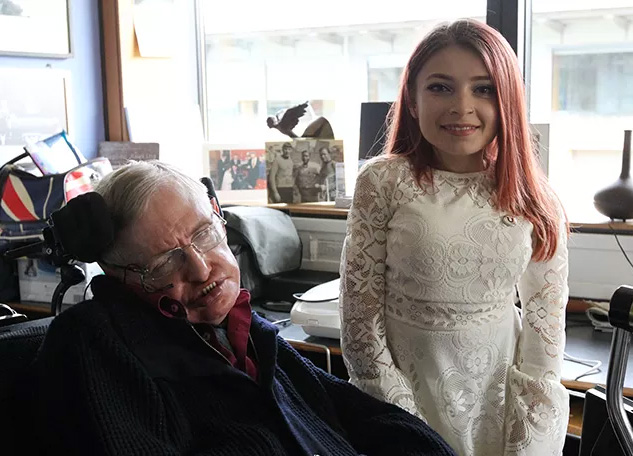 Rebecca Dann, the winner of "A World of Unfairness" said, "I was very nervous, but it was amazing just being in his presence. It didn't feel real. We were presented to him as he was part of the judging panel and had been quoted as saying that my piece was 'truly inspirational'. When I found out what he had said I was just shocked. It didn't feel real the thought of him seeing my photo".
Eileen Grubba, a Hollywood actress who contributes "Views From America" to the Disability Talk website, flew over from Los Angeles especially for the ceremony. She said, "Meeting Professor Hawking was an incredible experience. We fight so hard for disability inclusion in Hollywood, so sharing our cause with the most influential person with a disability, IN THE WORLD , is a game changer. I will never forget the compassionate look in his eyes.".
Rebecca Dann studied at the 'University of Creative Arts' in Farnham. To see the full gallery of entries please visit www.disabilitytalk.co.uk/unfairness/
Rebecca titled her photograph "I'm Fine". This was her perception of beauty. "I'm often told I have a pretty face and an ugly back", she said. "With regard to photography I don't really know what started it. I just loved taking photos from a young age and then I did it at school and again at college. It was something I was already working on, so the competition came at a perfect time. I was wanting to do it for a while but never had the confidence to do it".
(All photos in The Professor's office are accredited to the Cambridge News)
Next year's competition details will be announced shortly – as will our panel of judges.
Should you wish to receive prior notification of our announcement (the competition is open to all students studying at an UK University) please email us with your name, University and email address to:- info@disablitytalk.co.uk