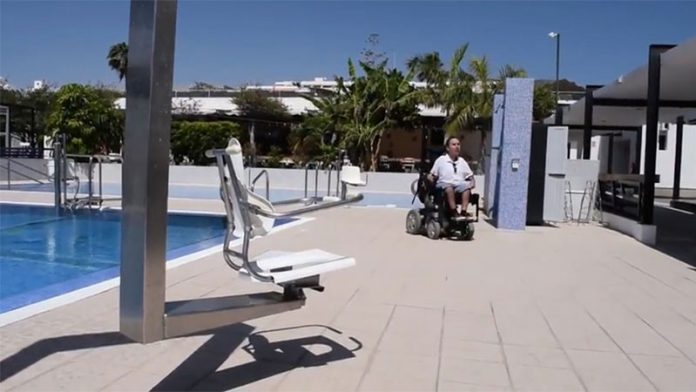 For regular readers of my blog, you'll know about my love affair with Tenerife. On my recent trip I obviously experienced the old favourites. The warm sun, the sea views, the vibrant surroundings. However I also experienced something completely new. You're going to be as surprised and delighted as I was!
Vintersol rehabilitation clinic is situated about as close as you can get to the accessible beach – playa las vistas. I'd zoomed past it on many walks before, and wondered what was happening inside. After all, a clinic on the beach front had some mystery around it.
After a good flight and accessible transfer from Tenerife airport, Kasia and I checked in to the hotel. Our first impressions were really positive. It was bright and open. Everywhere was wheelchair accessible. The staff were very welcoming.
Our room had a ceiling hoist that lifted me up and down, moved left to right, and down the length of the room. In essence the hoist could reach every part of the room. The beds were electric. In the bathroom there was a spacious wetroom shower. I'd brought my toilet/shower chair, but Vintersol provide them also. Even the sink and toilet could be lowered and raised by hand controlled buttons.
It was very well adapted!
Our terrace sea view was spectacular. The area around the hotel swimming pool was relaxing. Although it got livelier during aquafit The 2 pools had hoists and accessible changing rooms nearby. The restaurant served breakfast, lunch and dinner. Everything was covered.
Return of the Rehabilitation
I hadn't done physiotherapy for many years. Occasionally my Personal Care Assistants help me do basic stretches on my joints and muscles. Considering I'm sat down all day, this is not enough. Unfortunately our British government doesn't fund adults for physio and £40 an hour for private support is too expensive for me.
At Vintersol they have offered, predominantly Swedish and Norwegian, disabled people rehabilitation for decades. Patients receive world class treatment for physio, occupational therapy and other therapies. With the backdrop of warm sun, and highly adapted facilities; it's perfect for starting or continuing your rehabilitation programs.
I was really nervous before my first daily physio session. Childhood memories of protractors measuring my joints, my muscles hurting, and physio induced tears flowing ran through my mind. The professionals were surprised I was so nervous. They calmed me down very well.
My physio was called Ione (ee-oh-ne). He had worked with people with Spinal Muscular Atrophy before. Plus he supported Barcelona FC. Top guy! Here's my physio diary with him:
– Day 1 Ione carefully moved and stretched my legs and arms. They were metaphorically yelling with happiness for this new movement. I did ache a bit that evening, but in a good way.
– Day 2 I sat on the bed with my feet on blocks. I had to use my muscles more actively this time. There were aches during and afterwards. It felt less pleasant, but I knew it was good for me.
– Day 3 I stayed in my wheelchair and used the adapted gym machines. With Ione's help I was pushing and pulling the weighted strings. This didn't have as strong effect, but maybe I was already benefiting from the previous days. I also learnt some helpful breathing exercises.
– Day 4 I returned to the stretches of day 1. They definitely felt the best in terms of benefit. My joints and muscles felt great during and after.
Summary of my physio experience
Unfortunately I couldn't make day 5 due to a work commitment. After each session I learned new ideas from Ione to share with my Personal Care Assistants back home. Which I've already done since returning. If I had of stayed longer we would have done some sessions in the pool, which would have been great. Generally I'd have seen a greater benefit over 3 or more weeks. However I definitely felt improvements in those 4 days.
Group sessions
As part of the rehabilitation package there are group sessions too. These are spread out across the Vintersol complex. Varying from relaxation methods, to gentle movement, to more active methods. There are even art sessions too. All with the aim of getting people moving more and improving health. Plus they have fun evenings to wind down from the rehabilitation.
My final thoughts
If I'm totally honest, I wouldn't have put rehabilitation sessions together with a holiday in Tenerife. But on reflection I can see why it works. Disabled people constantly fight against societal barriers, but sometimes overlook maintaining their own bodies and health.
To have world class treatment in the sunshine is a very clever idea. Of course, when you are not due in physio or in the swimming pool – the beach, bars, restaurants and shops are on your doorstep. So you get the best of both worlds.
If you have any questions about Tenerife and accessible travel do give me a shout. If you have any questions on the rehabilitation services and how to book at Vintersol, please get in touch with them at info@vintersol.com.
See you soon for my next trip somewhere in the world!
Martyn