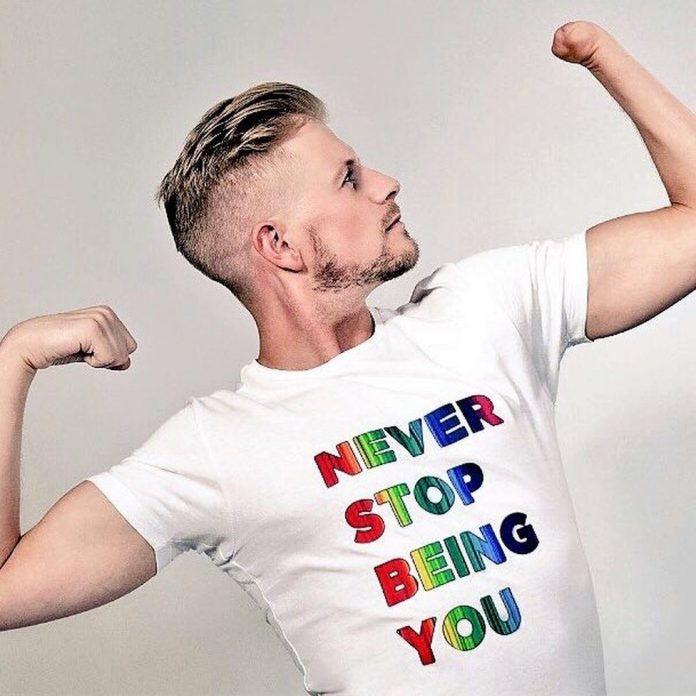 Former Mr Gay Universe says disabled and LGBTQ+ people need support to make sure they reach their full potential.
"I am gay, disabled and from the valleys – of course I've faced barriers."
Paul Davies was the first Mr Gay Universe who had a physical disability and was often told he could not follow his dreams.
He said while he grew up with support, other people were not as lucky and young people needed to be empowered to ensure they are not forgotten.
One charity said 40% of LGBTQ+ people in the UK identified as disabled.
The most recent figures showed the amount of people in Wales who did not identify as heterosexual was about 5.6%.
PAUL DAVIES
Co-founder of the charity ParaPride, Daniel Lul, said "cultural barriers" had a real impact on people.
Paul wants to empower young LGBTQ+ and disabled people but says it is down to others to help them also.
Paul, from Treherbert, Rhondda Cynon Taf, was born without a left hand and said before becoming Mr Gay Wales and Mr Gay Universe he did not realise how severe sexual discrimination was.
He said he always wanted to be a performer and is a former Red Coat at Butlins, a drag artist and TV presenter, alongside campaigning for disability and LGBTQ+ rights.
"I am gay from the Welsh valleys, from a mining community, and born in the 80s amongst a group of people that were fighting for their right to work, but I was also a disabled young man as well," he said.
"I think, without realising, I was facing a lot of barriers."
He said while he had a supportive family and school, people did assume he was less capable than he was, which did knock his confidence.
"Growing up was difficult sometimes, and I've faced my share of discrimination and stereotyping," he said.
"One moment that has stuck with me was a teacher telling me that my disability would hold me back from achieving my life and career ambitions.
"For me, I'm a very confident person now, but I wasn't always like that and having specialised support would have really helped me when I was starting out."
He wants to empower young people who are also both LGBTQ+ and disabled but said other people needed to make effort to support then and investments needed to be made to make training and workplace environments more inclusive.
He said programmes such as ReAct, which helps people out of work gain new skills, was one way to make a difference as disabled and LGBTQ+ people were more likely to struggle at work.
"For an LGBTQ+ disabled person the constant stresses, anxieties and pressure associated to constantly proving their ability and breaking stigmas is heightened and this can become tiring if you consider their disability and fact that they are continually having to adapt to the world around them every day."
He said: "Investing in more LGBTQ+ training can help remove stigmas and barriers faced by individuals and help improve workplace culture to be more open and inclusive.
"By striving to be more inclusive in our workplaces, surroundings and our communities we can show that every person belongs."
'People assume you're asexual if you have a disability'